Top Ad Title
Your Article Top Ad
US National Institutes of Health
At a Glance
A nasal spray of the Oxford/AstraZeneca COVID-19 vaccine protected hamsters and monkeys against serious disease and reduced the amount of virus in the nose.
Less virus in the nasal passages could decrease the risk that vaccinated people spread the virus, even if they don't feel sick.
A clinical trial is underway to test intranasal vaccination in people.
Vaccines are greatly reducing the number of COVID-19 hospitalizations and deaths. Those developed early in the pandemic continue to provide protection against severe disease caused by new variants of SARS-CoV-2, the virus that causes the disease.
All COVID-19 vaccines now in use are injected into the muscle (intramuscularly). Intramuscular injection produces antibodies that circulate in the blood to recognize the virus. But this route of administration doesn't necessarily produce antibodies in the nose and nasal passages.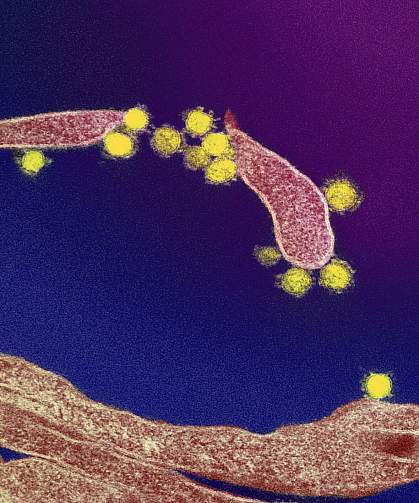 This has raised the possibility that vaccinated people could still catch and spread the virus, even when they don't know they're infected. Scientists have proposed that vaccines given through the nose (intranasally) may be able to block SARS-CoV-2 in both the nasal passages and bloodstream.
Ad Title
ARTICLE INLINE AD
Researchers led by Dr. Vincent Munster from NIH's National Institute of Allergy and Infectious Diseases (NIAID) tested intranasal delivery of the Oxford/AstraZeneca vaccine in hamsters and monkeys. The results were published on July 27, 2021, in Science Translational Medicine.
The team first compared spraying the vaccine intranasally to intramuscular injection in hamsters. Both routes of administration produced high levels of antibodies against SARS-CoV-2 in the blood after a single dose. Levels of antibodies in blood were actually higher after intranasal administration.
Vaccinated hamsters and a group of unvaccinated animals were then exposed to SARS-CoV-2, either by direct administration into the nose or through contact with infected hamsters. Both routes of vaccine administration protected hamsters from serious disease. Unvaccinated hamsters lost weight and showed signs of lung damage, but vaccinated hamsters did not. The animals that received intranasal vaccination also had substantially less infectious virus in their nasal passages than unvaccinated animals.
The researchers next tested two doses of the intranasal vaccine in four monkeys. As in the hamsters, antibodies were found in the blood after the second dose, at levels similar to those seen in people who have recovered from COVID-19.
The monkeys were then exposed to SARS-CoV-2. Compared to four unvaccinated monkeys, those that received the intranasal vaccine had less virus in their noses and in lung tissue. Three of the unvaccinated animals tested developed symptoms of pneumonia, while none of the vaccinated monkeys did.
More work is needed to understand the differences in immune response between the two routes of administration. "But these results justify additional tests of nasal delivery for COVID-19 vaccines in people," Munster says.
A clinical trial at the University of Oxford is now testing intranasal vaccination in human volunteers.
Related Links
References: Intranasal ChAdOx1 nCoV-19/AZD1222 vaccination reduces viral shedding after SARS-CoV-2 D614G challenge in preclinical models. van Doremalen N, Purushotham JN, Schulz JE, Holbrook MG, Bushmaker T, Carmody A, Port JR, Yinda CK, Okumura A, Saturday G, Amanat F, Krammer F, Hanley PW, Smith BJ, Lovaglio J, Anzick SL, Barbian K, Martens C, Gilbert SC, Lambe T, Munster VJ. Sci Transl Med. 2021 Jul 27:eabh0755. doi: 10.1126/scitranslmed.abh0755. Online ahead of print. PMID: 34315826.
Funding: NIH's National Institute of Allergy and Infectious Diseases (NIAID); UK Department of Health and Social Care.
This article was originally published by the National Institutes of Health, you can read the original article here.
Bottom Ad Title
ARTICLE BOTTOM AD